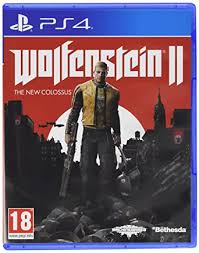 Wolfenstein II The New Colossus
Save

Liquid error (snippets/product-badge line 32): Computation results in '-Infinity'

%
Winner of Best Action Game at The Game Awards 2017, Wolfenstein II: The New Colossus is the highly anticipated sequel to the critically acclaimed first-person shooter, Wolfenstein: The New Order developed by the award-winning studio MachineGames.
Wolfenstein: The New Order was a bold, flawed attempt to reinvent the first-person shooter that kickstarted the genre. Taking place in an alternate history where the Nazis won the war, long-time protagonist B.J. Blazkowicz tried to take back the world with the help of resistance fighters hiding in the sewers of Berlin. Though the run-and-gun gameplay was satisfying, The New Order shined through its story, focusing on a diverse cast of people trying to hold on to scraps of hope and love. The sequel, The New Colossus, trades the somber tone to become a tale of fury and uprising, and in doing so emerges as both one of the best first-person shooters and narrative-driven games I've ever played.
The New Colossus kicks off on a grim note, with B.J. awaking crippled after the events of the first game. You are in the middle of the action almost immediately, roaming around a U-boat in a wheelchair and blasting Nazis as you go. From there, the game gets zanier and more ambitious. I rode a giant mechanical fire-breathing dog of death chasing armored troops down the streets of New Orleans. I infiltrated an airship with the power to level a city. The New Colossus is constantly upping the ante and making the most of the locations you visit, like Reich-occupied Roswell, where the Ku Klux Klan walk arm-in-arm with Nazis and talk about the importance of Americans taking their German lessons. These sequences create a compelling world, going to great lengths to sell the horrifying nature of the Nazi regime's iron-like grip on America. From detailed and beautiful propaganda adoring walls to background sequences with characters talking amongst themselves about their struggles and secrets, Wolfenstein II goes all-in on making its terrifying world a breathing place filled with atrocities and towering, architectural wonders.