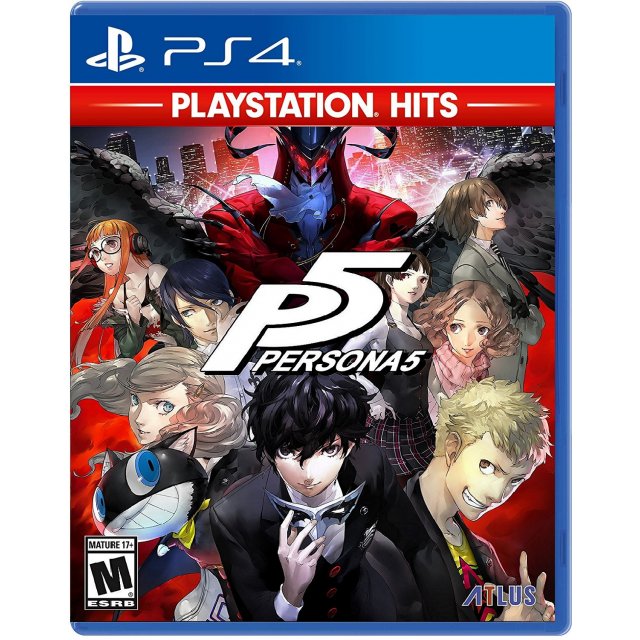 Persona 5 - Playstation Hits
Persona 5 marks the return of the award-winning franchise on home consoles since the PS2 generation, and is the first numbered Persona game in over eight years! With fast-paced Japanese role-playing game mechanics, exciting action sequences, vibrantly stylized characters, enemies, and environments, and elegant anime-style cut-scenes, Persona 5 is unlike any of its predecessors!
Persona 5 is a game about the internal and external conflicts of a group of troubled high school students – the protagonist and a collection of compatriots he meets in the game's story – who live dual lives as Phantom Thieves. They have the typically ordinary day-to-day of a Tokyo high schooler – attending class, after-school activities and part-time jobs. But they also undertake fantastical adventures by using otherworldly powers to enter the hearts of people. Their power comes from the Persona, the Jungian concept of the "self;" the game's heroes realize that society forces people to wear masks to protect their inner vulnerabilities, and by literally ripping off their protective mask and confronting their inner selves do the heroes awaken their inner power, and use it to strive to help those in need. Ultimately, the group of Phantom Thieves seeks to change their day-to-day world to match their perception and see through the masks modern-day society wears.
The 5th Numbered Game in the Series, Created by Renowned Developers - The core development team of the recent Persona titles unites again for this upcoming game. Long-time Persona series director Katsura Hashino is overseeing the project, while legendary character designer Shigenori Soejima is working closely to create character designs that ooze rebellious style and attitude. The game will also be backed with a soundtrack featuring the fresh sounds of acid jazz composed by the gifted Shoji Meguro. This dream team will bring both depth and style into the mix.
A Deep and Engaging Storyline - The thrilling story of a team of defiant teenagers, growing through every trial they face, begins now. Each case will take you one step closer to the truth veiled in darkness...What awaits our heroes: glory or ruin?
Unique and Interesting Dungeons with Various Tricks and Traps Await - Overcome various obstacles with graceful Phantom Thief action. The simple-to-learn, but hard-to-master controls will be enjoyed by newcomers and veteran Persona players alike.
Language - A stable of talented voice actors have provided English voice-overs while ATLUS' celebrated localization team offers an English script that provides a faithful and engaging play experience. The original Japanese voices will be available as FREE DLC.