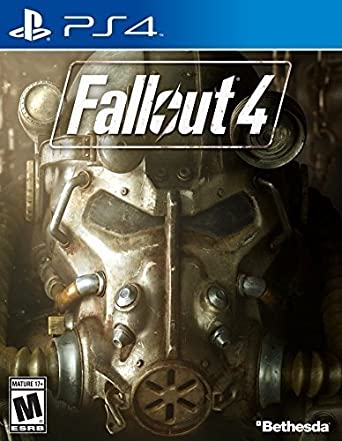 Fallout 4
Save

Liquid error (snippets/product-badge line 32): Computation results in '-Infinity'

%
Bethesda Game Studios, the award-winning creators of Fallout 3 and The Elder Scrolls V: Skyrim, welcome you to the world of Fallout 4 – their most ambitious game ever, and the next generation of open-world gaming.
Features:
FREEDOM AND LIBERTY
Do whatever you want in a massive open world with hundreds of locations, characters, and quests. Join multiple factions vying for power or go it alone, the choices are all yours.
YOU'RE S.P.E.C.I.A.L!
Be whoever you want with the S.P.E.C.I.A.L. character system. From a Power Armored soldier to the charismatic smooth talker, you can choose from hundreds of Perks and develop your own playstyle.
COLLECT AND BUILD!
Collect, upgrade, and build thousands of items in the most advanced crafting system ever. Weapons, armor, chemicals, and food are just the beginning - you can even build and manage entire settlements.
SUPER DELUXE PIXELS!
An all-new next-generation graphics and lighting engine brings to life the world of Fallout like never before. From the blasted forests of the Commonwealth to the ruins of Boston, every location is packed with dynamic detail.
VIOLENCE AND V.A.T.S.!
Intense first or third person combat can also be slowed down with the new dynamic Vault-Tec Assisted Targeting System (V.A.T.S) that lets you choose your attacks and enjoy cinematic carnage.
FOR USE IN SURVIVAL
TIPS FROM THE VAULT
RADIATION AND YOU
BEWARE THE SILENT KILLER
While some harmful radiation should have dissipated years ago, lingering radiation will remain. In the Wasteland, ceaseless radioactive bombardment will attack your body without warning until it's too late. This will be a real threat to your survival. Use your Vault-Tec assigned Pip-Boy to monitor radiation levels at all times.
ADAPTING TO THE OUTSIDE
YOU'VE LEFT THE VAULT. NOW WHAT?
The moment you exit the vault, you will notice a piercing bright light. Like a creature of the night, your eyes are not accustomed to the bare sun. Make sure to shield the retinas with tinted goggles.